Games Emblem & Slogan
Introducing the Games Emblem and Slogan for the 20th Asian Games (2026 / Aichi-Nagoya)
Games Emblem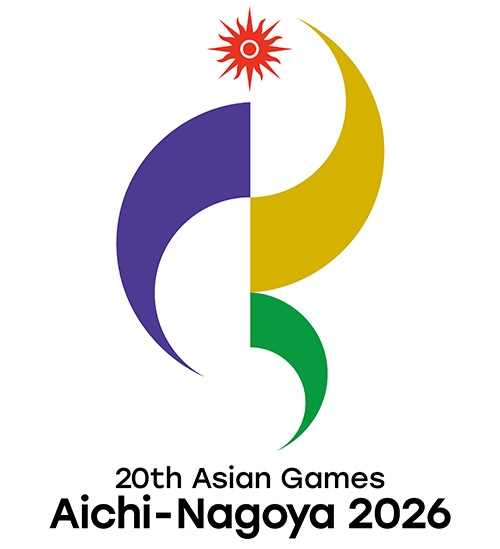 Emblem Objectives
The smooth curves describe the liveliness of sports. The center line colored by purple, gold and green inspires the image that people get together as one and go forward to the future by heading to a bright red sun, the symbol of the OCA.
The purple is used as an image of iris which is the prefectural flower of Aichi. The gold describes the Kinshachi, the golden tiger-fish roof ornaments and the symbol of the Nagoya Castle. And the green inspires the high environmental consciousness among people of Aichi-Nagoya fostered through the EXPO Aichi 2005, the COP10 and the UNESCO World Conference on ESD.
The emblem contains the initial letters of Asia, Aichi and Nagoya. You could see "A" described by the purple curve and the center line and "N" designed by the purple and the gold.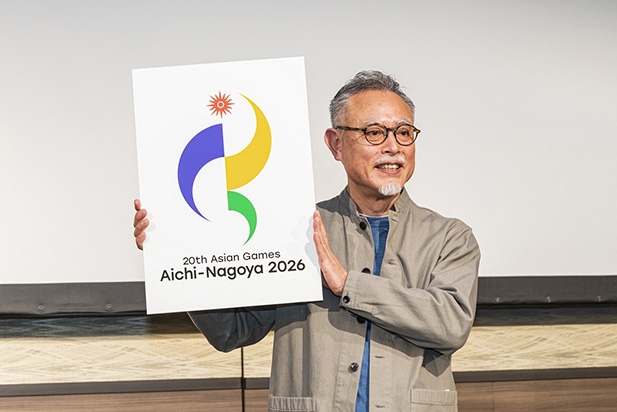 <Profile of Hiroshi Miyashita>
Associate Professor of Department of Design, Faculty of Architecture and Design, Aichi Sangyo University
Comments from emblem creator Hiroshi Miyashita
We believe that the emblem will decorate the host cities and will be loved by many people of all ages and from all walks of life.
Games Slogan

Slogan Objectives
The organizers claim that sports has a power to bring people together beyond the barriers of language, culture and nationality.
They hope that Aichi-Nagoya 2026 Asian Games will be the opportunity for every people in Asia to be able to imagine their own 'ONE ASIA' with the power of sports so that the ties among the people in Asia will be strengthen and they can forward to the bright future.
<Profile of Waka Sakamoto>
Copywriter/Representative of Cotori LLC
Major works include "Ikuze, Tohoku" (East Japan Railway Company) and "Karada ni, Peace. Calpis" (CALPIS Co., Ltd.). Sakamoto also originated the name of electronic money card "WAON" (AEON Co. Ltd.), and has experience creating catchphrases, slogans, and product names for numerous other companies.
Comments from slogan creator Waka Sakamoto
As products and services rapidly become more diverse, there is a need for all of us to "naturally come together as one." Through the unique power of sports, each of us can envision what "One Asia" might look like. My hope is that this broader concept will continue to develop, free from issues of language or race.