December 23, 2021
Conclusion of Memorandum of Understanding with the 19th Asian Games Hangzhou 2022 Organising Committee
News
The Memorandum of Understanding has been signed with the 19th Asian Games Hangzhou 2022 Organising Committee (HAGOC) on Thursday 23 December 2021.
The Aichi-Nagoya Asian Games Organizing Committee (AINAGOC) has been in collaboration with HAGOC on knowledge sharing regarding the management of the Games, and together produced a joint PR video, with the aim of the success of both Games.
The two organizing committees have now signed a Memorandum of Understanding (MOU) to further promote the mutual cooperation in the run-up to 2022, the year of the 19th Games in Hangzhou. Under the support and guidance from the Olympic Council of Asia, we look forward to working even closer for both of our Games together.
1. Date of MOU Conclusion
  December 23, 2021 (Thursday)  
2. Signed by
  Naruse Kazuhiro, Director General of the Aichi-Nagoya Asian Games Organizing Committee
  Chen Weiqiang, Deputy Secretary General of the 19th Asian Games Hangzhou 2022 Organising Committee   
3. Mutual Agreement on
(1) Cooperation for Effective Preparation and Success of the 19th and the 20th Asian Games
(2) Cooperation for Enlivening the 19th and 20th Asian Games
(3) Cooperation for Promotion of the Olympic Movement in Asia
---
The Memorandum of Understanding with the 19th Asian Games Hangzhou 2022 Organising Committee(PDF/125KB)
---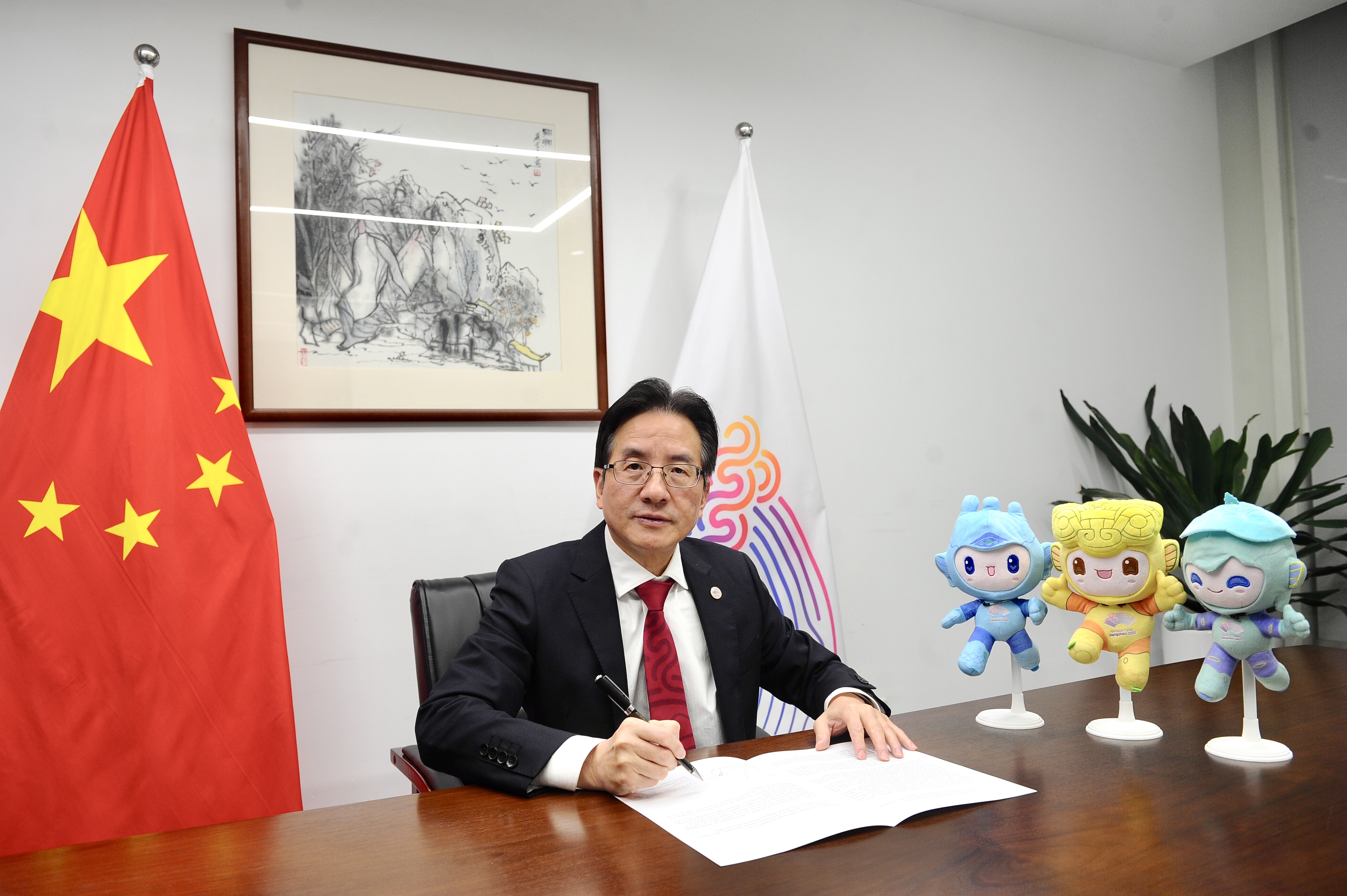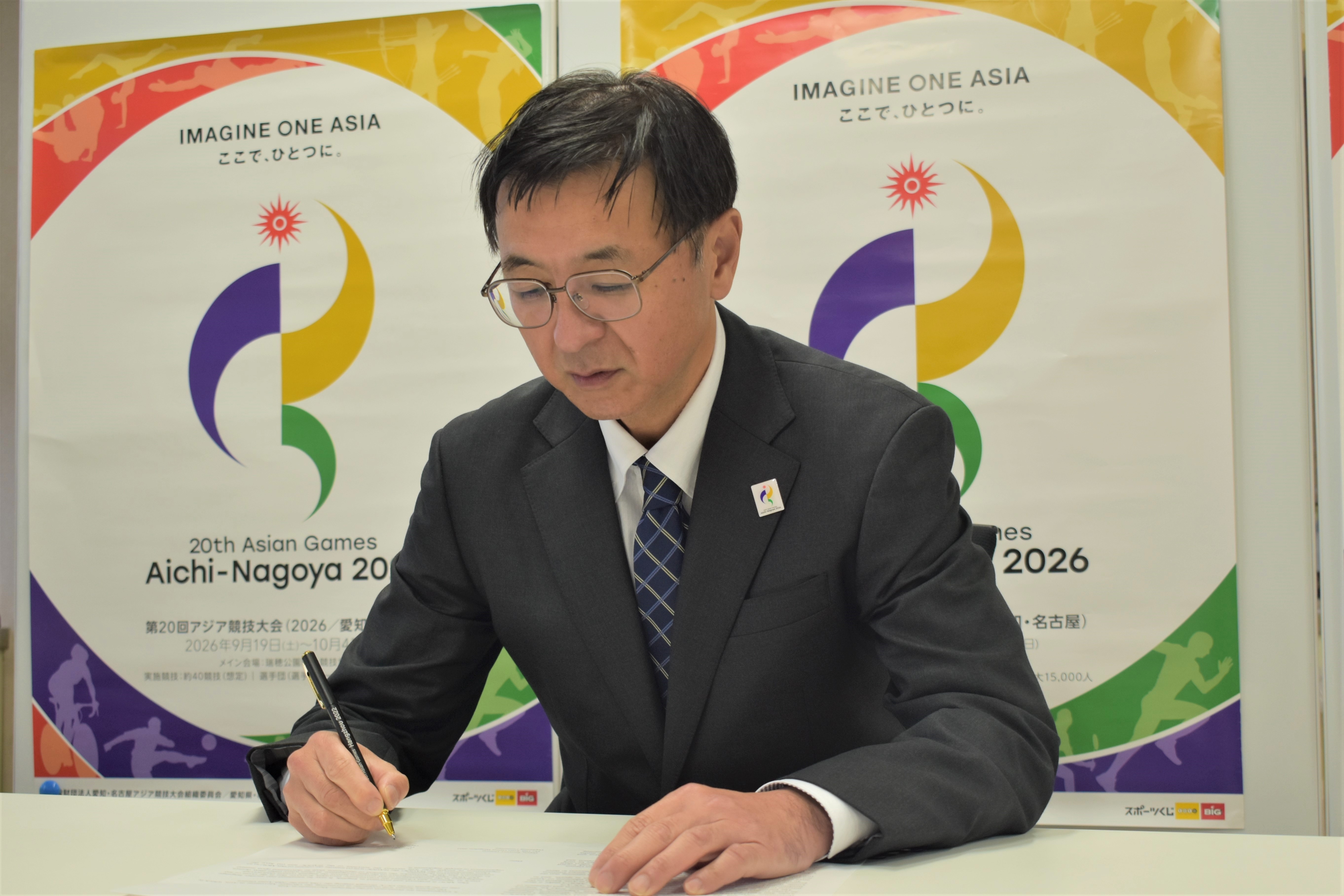 ---
Information on the 19th Asian Games (Hangzhou, 2022)
1. Games Period
  Saturday, September 10, 2022 - Sunday, September 25, 2022 (16 days)
2. Games Venues
  Main venue: Hangzhou Olympic and International Expo Center
  Total of 55 venues in Hangzhou and five co-host cities - Ningbo, Wenzhou, Shaoxing, Jinhua, and Huzhou
   (all in Zhejiang Province)
3. Sports Programme
  40 sports, 61 disciplines, 482 events
4. Previous Collaborations between HAGOC and AINAGOC
 May 2019 - Aichi Governor Hideaki Omura visited China and reached an agreement with the leaders of HAGOC
on the promotion of the Games through cooperation between the two organizing committees
 June 2019 - Regular online meetings held between HAGOC and AINAGOC
 July 2020 - Joint PR video by the two organizing committees released
5. Website of the Organizing Committee for the 19th Asian Games Hangzhou  
https://www.hangzhou2022.cn/En/
6. Joint PR Movie